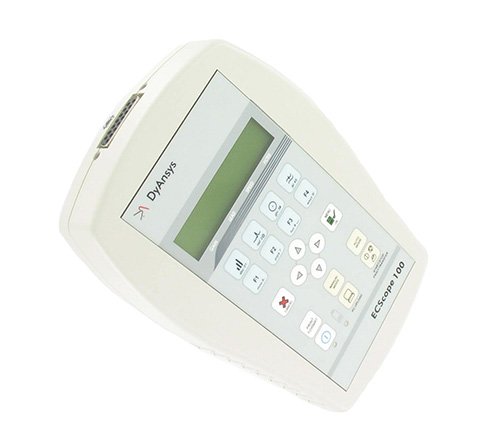 ECScope 100™ 12 lead Portable ECG recording device acquires 12 (3 limb leads, 3 derived augmented leads and 6 chest leads) lead ECG signal and records all leads simultaneously.
Data acquisition
Standard leads acquired: I, II, III, aVR, aVL, aVF, V1 to V6
12 Leads simultaneous (5 -12 mode)
Lead and gain selection: User can dynamically select lead/gain at the start of recording
Digital sampling rate: 1200 samples/sec
Sampling resolution: 12 bit, bipolar
Frequency response: 0.05 Hz to 150 Hz
Notch filter: 50Hz, 60Hz for power interference
Input dynamic range: ±5 mV
Common mode/technique rejection: >100dB
DC offset capability: ±300 mV DC
Input lead impedance: >20M ohm at DC
Patient safety
Patient leakage current: <10 uA
Classified as Class I - Type CF device as per IEC requirements
Physical specifications
Weight <450 gms (including the battery)
A Dimensions 175 x 95 x 112 (mm)
Environmental specifications
Operating temperature 0°C to 45°C
Storage Temperature –20°C to +65°C
Humidity 10% to 95%
Pressure 700 -1060 millibars
Protected from patient defibrillation
Regulatory compliance
IEC 60601-1, IEC 60601-1-1, IEC 60601-1-2, IEC 60601-1-4 and IEC 601-2-25
Accessories specifications
Data storage capability
USB key can be used for data storage/backup
Data report in an image format can be exported to a PC by connecting the product to the PC directly
Printing capability
Direct printing using a compatible HP printer connected to the equipment.
Printing using USB key with a standard printer connected to a PC.
Battery specifications
Battery type AA battery (Re chargeable)
Battery voltage 1.2 V DC, AA Size (4 numbers)
Battery capacity minimum 2500 mAh
Typical battery operational >7 hours
Auto shutdown time 5 minutes
Standard accessories
Cables - 10 lead ECG cable
Product user manual
Note: specifications subject to change without notice.